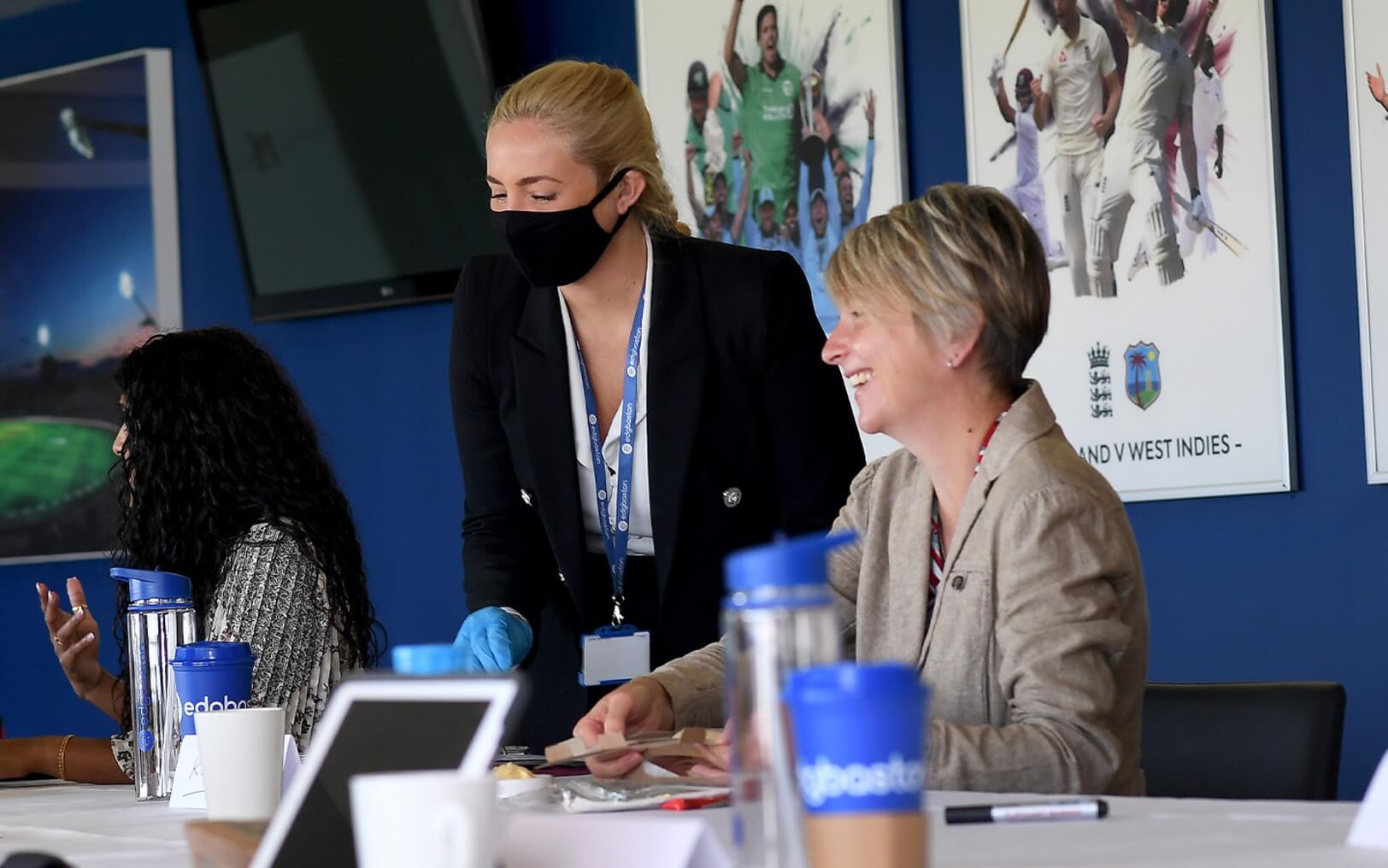 Following the government announcement regarding their roadmap out of lockdown, Edgbaston Events are now looking forward to being able to welcome guests back to the stadium over the coming months.
After what has been a challenging year for everyone in the events industry, there is now a clear roadmap on how face-to-face events will return over the coming months. Here are the key dates you need to know for events returning to Edgbaston.
No earlier than 12 April
Edgbaston continues to be open to support essential business meetings, training and events under COVID-secure procedures.
Intimate wedding ceremonies, with sit down reception, and wakes will be able to take place for up to 15 people.
If you would like to discuss your requirements for any essential events and take advantage of some discounted rates on offer, please contact our events team by calling 0121 369 1994 (option 3) or via email at events@edgbaston.com.
No earlier than 17 May
Edgbaston will be able to welcome indoor events for up to 1,000 guests or 50% capacity with social distancing measures.
The Edgbaston Studio will be available to fulfill all hybrid or virtual event requirements.
Intimate wedding ceremonies can be held for up to 30 people, including reception, and wakes can also be held for up to 30 people.
Edgbaston will be operating a a COVID-secure restaurant for a Father's Day Sunday Lunch on Sunday 20 June.
Due to the sizes of the spaces available to us at Edgbaston, we are hoping that from 17 May we will be able to once again welcome events for up to 300 to 400 people in our larger spaces, such as our Banqueting Suite and Exhibition Hall. Additionally, if you would like to find out more information on what capabilities we can offer to host your hybrid event then click here.
No earlier than 21 June
Edgbaston will be able to welcome back large events to full capacity.
Conference, meetings, exhibitions and dining events of all sizes will be able to return.
Weddings, wakes and celebrations will be permitted without restrictions on guests or format.
Edgbaston Events calendar of events will begin during the summer with many to choose from.
The Events team at Edgbaston have been working hard to ensure we have a comprehensive set of events at Edgbaston following the relaxation of rules from 21 June. You can take a look at all the wonderful events we will be welcoming to the stadium by visiting our What's On page.
---
Maria Jones, Head of C&E Sales at Edgbaston Events, commented: "We can't wait for 21 June so we can start returning to normal business once again. Before the start of the pandemic we were set for yet another year of record sales across events at Edgbaston and our team are very much keen to kick off where we finished last March.
"In the meantime, as we have throughout the last year, we will strive to make our guests feel as safe as possible and maintain our excellent procedures we have developed to ensure we can operate a COVID-secure environment.
"The announced government roadmap has provided us with a great deal of excitement that we can provide our clients with more confidence when discussing their event for 2021, that they will go ahead.

Maria Jones, Head of C&E Sales
"We have already noticed a large increase in our enquiries since the announcement and have got many events already booked for the summer and many more clients securing their places at our Dancing Through the Decades Christmas Party Nights for this festive season."
Our team are available Monday to Friday, 9am to 5pm, to discuss your events or to answer any questions. Please feel free to get in touch by email at events@edgbaston.com or by phone on 0121 369 1994 (option 3).