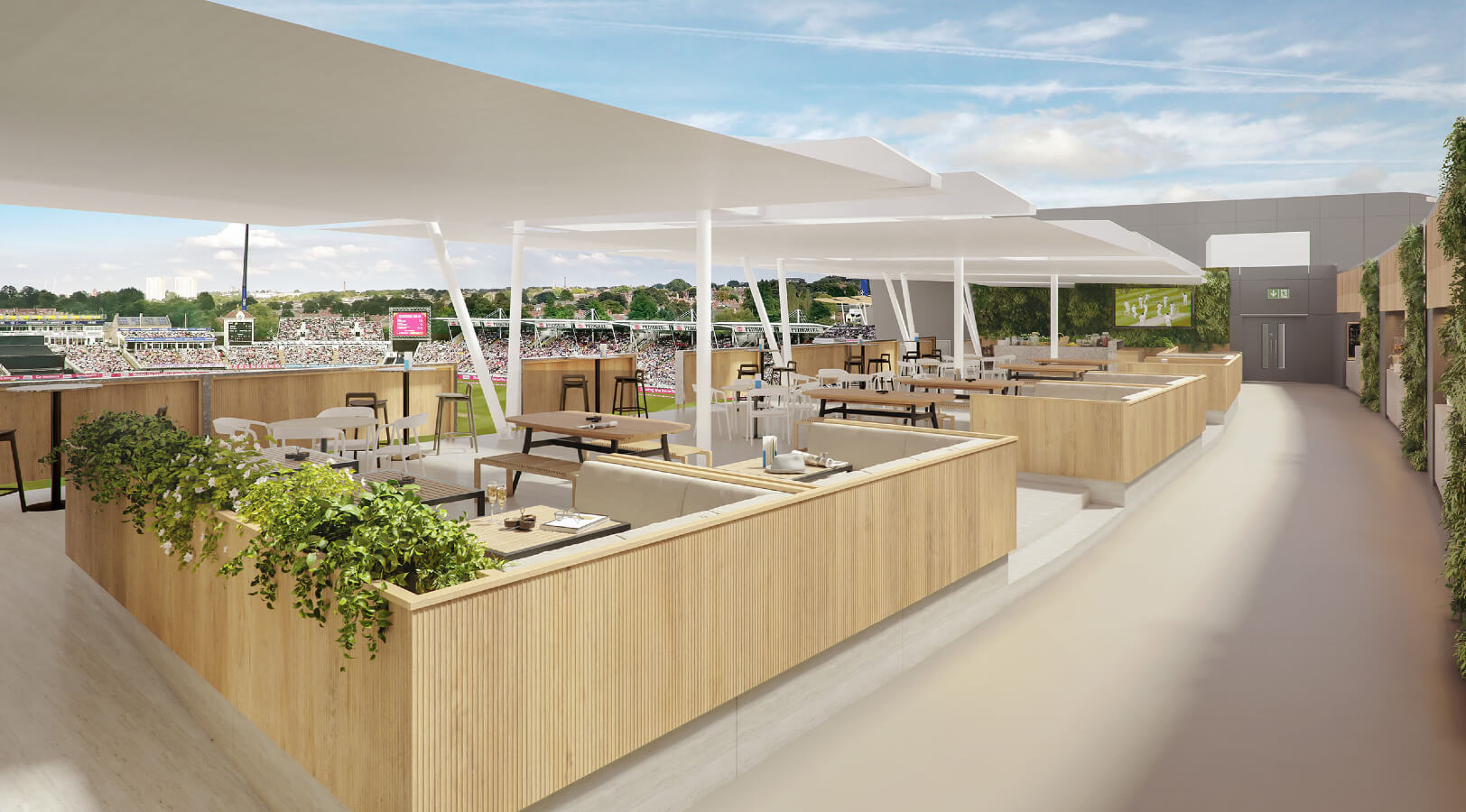 Edgbaston Stadium is preparing to unveil a Skyline roof-top terrace that will transform its outdoor events capabilities.
Skyline- situated at the height of the South Stand, will offer spectacular panoramic views of the famous Edgbaston pitch and Birmingham landscape, whilst delivering a luxury space to host events.
The major refurbishment includes a high-end fit with a selection of informal seating areas in a partially-covered, contemporary roof-top setting.
Edgbaston is working on Skyline in partnership with Stadia by GL Events, Arcadis and Woo Architects, who devised concepts for areas at Wembley, Twickenham and the London Stadium.
Craig Flindall, Chief Operating Officer at Edgbaston, said: "The Skyline is set to be one of the most unique event spaces in Birmingham. It's a contemporary, vibrant space that transforms the existing seating area to a stunning high-spec fit-out, offering a first-rate experience for visitors.
"The development is part of our wider Masterplan to further invest in our facilities at Edgbaston and create more multi-purpose, versatile spaces. The Skyline does that by giving us the opportunity to continue expanding our conference and events capabilities to host more summer parties and outdoor events.

Craig Flindall, Chief Operating Officer
"The environment will be relaxed and informal, where there are not only exceptional pitch views but with easy-access for serving buffet-style menus and deliver a fun, lively atmosphere."
Skyline is set for completion in the coming weeks with the space becoming available for bookings from the beginning of May 2023.
Maria Flello, Head of C&E Sales at Edgbaston, added: "This Skyline space will add a new dimension to the already-exceptional event facilities we have available at Edgbaston. Our vision is to create an ideal area for corporate entertaining, networking or summer get-togethers.
"The Skyline offers a more free-flowing environment and the flexibility to shape events in a way clients may not have done so previously and we can't wait to start speaking to event organisers about this exciting addition."
To find out more information on Skyline, discuss an upcoming event or arrange a site visit, please contact our team on 0121 369 1994 (option 3) or at events@edgbaston.com.