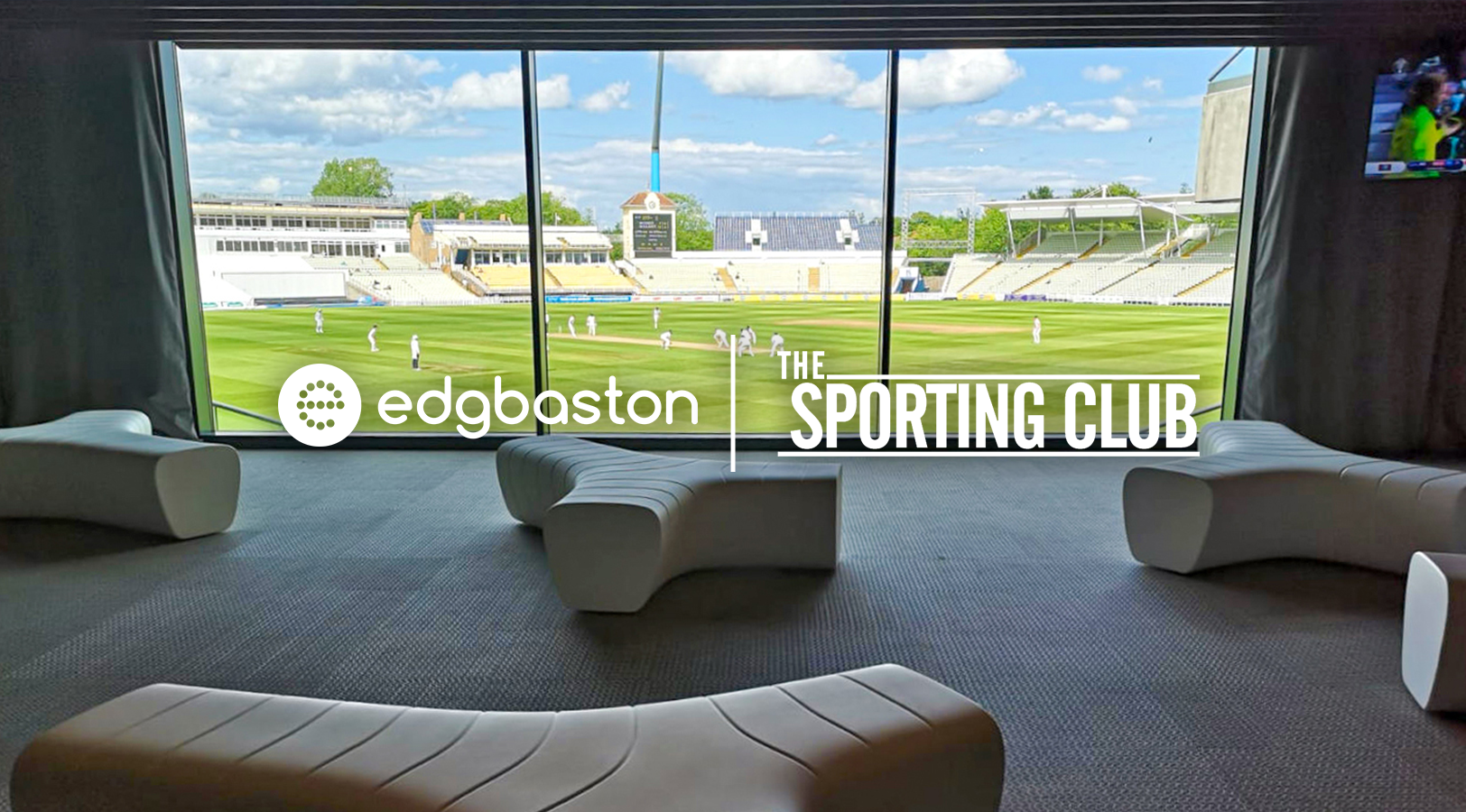 The Sporting Club has landed in Birmingham, officially opening their doors on Monday 21 June, following a delay due to Government restrictions.
The new Birmingham-based business hub announced its arrival at Edgbaston with a fantastic launch event featuring special guest Harry Redknapp. Over 80 guests were welcomed to the stadium to enjoy a superb three-course lunch and were treated to an exclusive photo opportunity and Q&A with the former Premier League manager.
The Sporting Club Birmingham will be hosted in our 501* Lounge and will provide the perfect space for members to work, have meetings, network or relax. Featuring work stations, a stylish bar and café facilities, the venue offers an outstanding area for multi-purpose use with stunning views over the iconic Edgbaston pitch.
Edgbaston is the first dedicated sporting venue in The Sporting Club portfolio and as such offers the unique opportunity for members to be treated to live cricket when they visit, with the facility remaining open during Warwickshire CCC's LV= Insurance County Championship and Royal London 50-over home fixtures.
Additionally, the stadium will also become one of the host venues for a series of events put on by The Sporting Club throughout 2021.
Maria Jones, Head of C&E Sales at Edgbaston, said: "We are delighted to be able to finally open The Sporting Club Birmingham in our 501* Lounge. Our team can't wait to start welcoming more people to Edgbaston and creating a great environment for them to visit.
"The success of the launch event with Harry Redknapp was a great way to start our relationship with The Sporting Club, and I very much look forward to working closely together to deliver amazing events and make the business hub a huge success."

Maria Jones, Head of C&E Sales
Ian Stafford, Founder and Owner of The Sporting Club, added: "We are delighted to have teamed up with Edgbaston to bring The Sporting Club to the second city. The 501 Lounge is a wonderful venue for our members to work and relax, meet and network in and I look forward to seeing it nice and busy with our members both from the West Midlands and members from our other clubs in London, Manchester, Leeds and Liverpool.
"The lunch with Harry Redknapp was a great success and those who attended enjoyed getting out again to an event after such a challenging year. We can't wait for all our events and to welcome our new members to the club."
The Sporting Club have a jam-packed summer of events scheduled at Edgbaston, including a exclusive dinners with Sugar Ray Leonard, on Tuesday 21 September, and another celebrating the 40th Anniversary of the 1981 Ashes with Ian Botham, on Thursday 5 August . To find out more about all the events on offer please visit our What's On page.
If you would like to discover more about The Sporting Club Birmingham, the 501* Lounge or membership options that are available then please visit www.thesportingclub.co or contact a member of our team.
What's On at Edgaston
Starting planning your summer at Edgbaston and discover all the events we have scheduled for you to enjoy.
We Are #Ready4You.