Midlands Arts Centre (MAC) in partnership with Edgbaston Stadium present an immersive installation by artist Michael Pinsky that explores the impact of pollution on our environment and health.
Midlands Arts Centre (MAC) in partnership with Edgbaston Stadium present an immersive installation by artist Michael Pinsky that explores the impact of pollution on our environment and health.
Supported by Corkfield, the Pollution Pods consists of five interconnected geodesic domes that imitate polluted environments in cities across the globe.
Starting from a coastal location in Norway, visitors will pass through increasingly polluted cells, from dry and cold locations, to hot and humid. Each pod contains a carefully mixed recipe to emulate international cities' varying levels of atmospheric conditions and smells, including London, New Delhi, São Paulo and Beijing.
The installation is created by Michael Pinsky, an award-winning British artist, whose international projects challenge the status quo on climate change, urban design and societal wellbeing. Pinsky explores issues which shape and influence the use of our public realm to create ambitious and provocative installations in galleries and public spaces. Taking the combined roles of artist, urban planner, activist, researcher and resident, he allows the physical, social and political environment to define his working methodology.
Deborah Kermode, CEO and Artistic Director at MAC, said: "Michael Pinsky's important installation is a key part of our autumn programme at MAC. As a cultural charity, we understand our responsibility to engage audiences with the climate emergency.
"The immersive nature of Pollution Pods gives people the opportunity to experience the consequences of pollution in a unique and impactful way. This special work has been made possible through collaboration with our neighbours at Edgbaston Stadium and Corkfield, who share our commitment to promoting sustainability in a meaningful way."
Ella Hogan, Special Events Manager at Edgbaston Stadium added: "It is great for us to be involved in showcasing this unique installation and welcoming visitors from the local area to the stadium to experience the exhibition.
"We have recently launched our Edgbaston 4 Sustainability pledge and the Pollution Pods not only align with our community engagement aims but also help raise awareness of our key sustainability objectives. We would like to thank our friends at the MAC and Corkfield for making this collaboration possible and we can't wait to welcome the Pollution Pods to Edgbaston."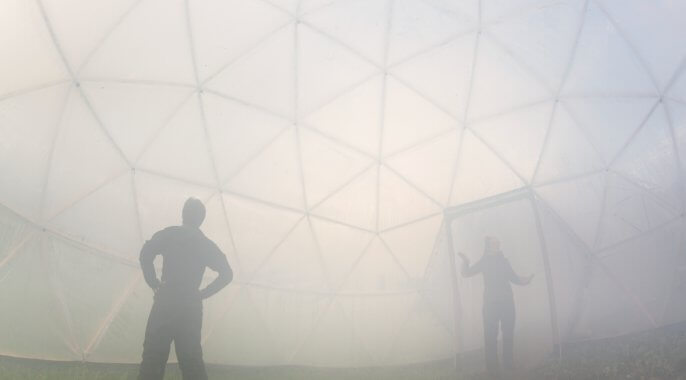 Pollution Pods forms part of MAC's Art, Nature and Wellbeing Season, which includes a series of events inspired by Cannon Hill Park's 150-year anniversary that focus on the importance of protecting our natural landscape. This timely exhibition coincides with Edgbaston Stadium's upcoming Go Green Game, taking place on Sunday 3 September, aimed at raising awareness of the influence the sporting and event industry can have on climate action.
Alongside the installation, the arts charity is encouraging visitors to donate to Generation Green – MAC's ongoing free programme of activities, workshops and events that inspire young people to take action for a brighter, greener future.
Included in Artnet's list of 100 Works of Art That Defined the Decade and Connaissance des Arts' top 10 artworks that engage with climate change, this eye-opening exhibition masterfully unites natural sciences to the visual arts to bring to life the effects of pollution.
Pollution Pods is presented by Midlands Arts Centre in partnership with Edgbaston Stadium, and generously supported by Corkfield.
Richard Scutt, Director in the Real Estate Development team at PATRIZIA, owner of the Corkfield apartments next to Edgbaston Stadium, said: "Michael Pinksy's work highlights how the climate is changing. As a real assets investment manager, PATRIZIA is conscious of the impact buildings have on the environment. We are committed to building communities and sustainable futures, and it's an absolute privilege to share our values by supporting this fascinating installation."
Michael Pinsky: Pollution Pods opens on Thursday 14 September until Sunday 24 September 2023. £2 adult ticket, children under 12 free. Booking is essential.
Pollution Pods by Michael Pinsky
Join us at Edgbaston, in partnership with MAC, to experience this unique art installation with five interconnected domes that imitate polluted environments in cities around the world.
You can book your slot to experience this unique exhibition now via the MAC website. Tickets are £2 per person, under 12s go free.